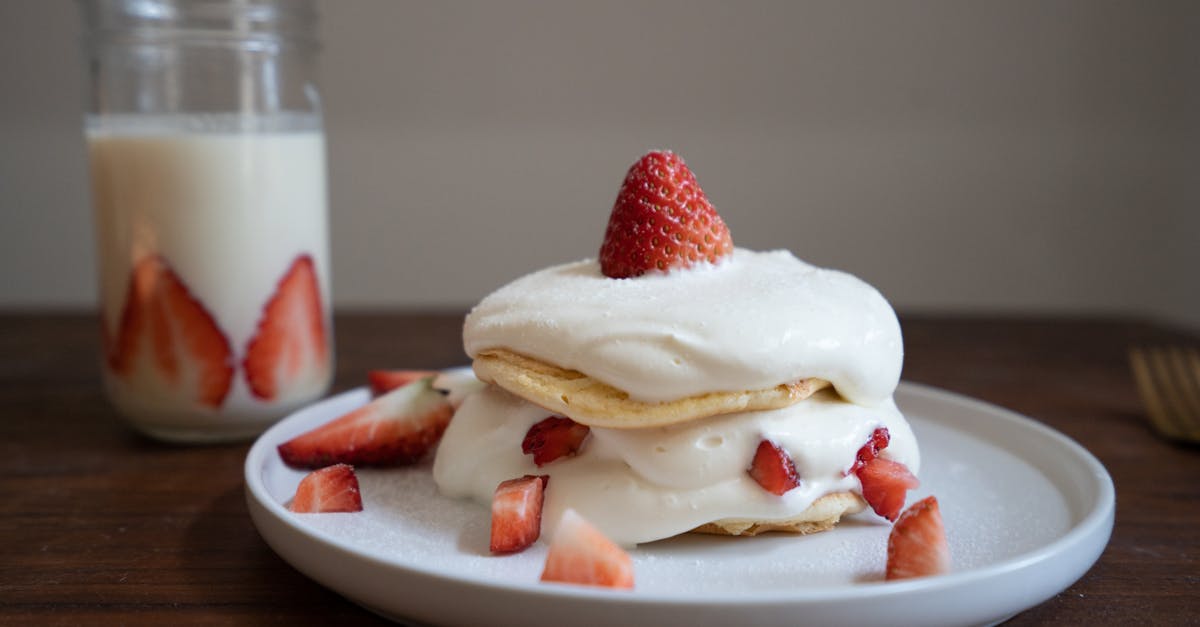 This Easy Strawberry Shortcake recipe produces an iconic summer dessert that's impossible to resist. It's the perfect balance of sweet strawberries, fluffy shortcake, and freshly whipped cream, making it a crowd-pleaser for any occasion. This recipe yields 8 servings, with a prep time of 30 minutes and a cook time of 15 minutes.
Nutrition per serving:
– Calories: 385kcal
– Carbohydrates: 46g
– Protein: 5g
– Fat: 20g
– Saturated Fat: 12g
– Cholesterol: 72mg
– Sodium: 498mg
– Potassium: 285mg
– Fiber: 2g
– Sugar: 24g
– Vitamin A: 685IU
– Vitamin C: 50mg
– Calcium: 159mg
– Iron: 2mg
Ingredients:
2 lbs strawberries, hulled and sliced
1/2 cup granulated sugar
1/4 cup cold unsalted butter, cut into cubes
2 cups all-purpose flour
1/4 cup granulated sugar
1 tbsp baking powder
1/2 tsp baking soda
1/2 tsp salt
3/4 cup cold heavy cream
1/2 cup cold buttermilk
1 tsp vanilla extract
1 large egg, beaten
Whipped cream, for serving
Instructions:
Preheat the oven to 375°F (190°C). Line a baking sheet with parchment paper.
Toss the sliced strawberries with 1/2 cup of granulated sugar in a large bowl and set aside.
In a separate large bowl, whisk together the flour, 1/4 cup granulated sugar, baking powder, baking soda, and salt. Using a pastry cutter or your hands, work in the cubed butter until the mixture looks like coarse sand.
In a small bowl, whisk together the heavy cream, buttermilk, vanilla extract, and egg.
Pour the wet ingredients into the dry ingredients and mix until just combined. Do not overwork the dough.
Use an ice cream scoop or a 1/4 cup measuring cup to scoop the dough onto the lined baking sheet. Leave enough room between each shortcake for it to expand while baking.
Bake the shortcakes for 15-18 minutes or until golden brown. Allow them to cool slightly.
To assemble the shortcakes, cut each one in half and layer with the sugared strawberries and whipped cream. Serve immediately.
Additional notes:
This recipe calls for cold butter, heavy cream, and buttermilk. It's important to keep these ingredients cold to create a buttery, flaky texture.
Slicing the strawberries and adding sugar helps them release their juices, creating a delicious syrupy topping for the shortcakes.
You can also substitute the whipped cream for vanilla ice cream or Greek yogurt for a tangy twist.
This Easy Strawberry Shortcake is a classic dessert that's perfect for any summer gathering. It's quick to make and always a crowd-pleaser. It fits into the dessert category and has American cuisine.