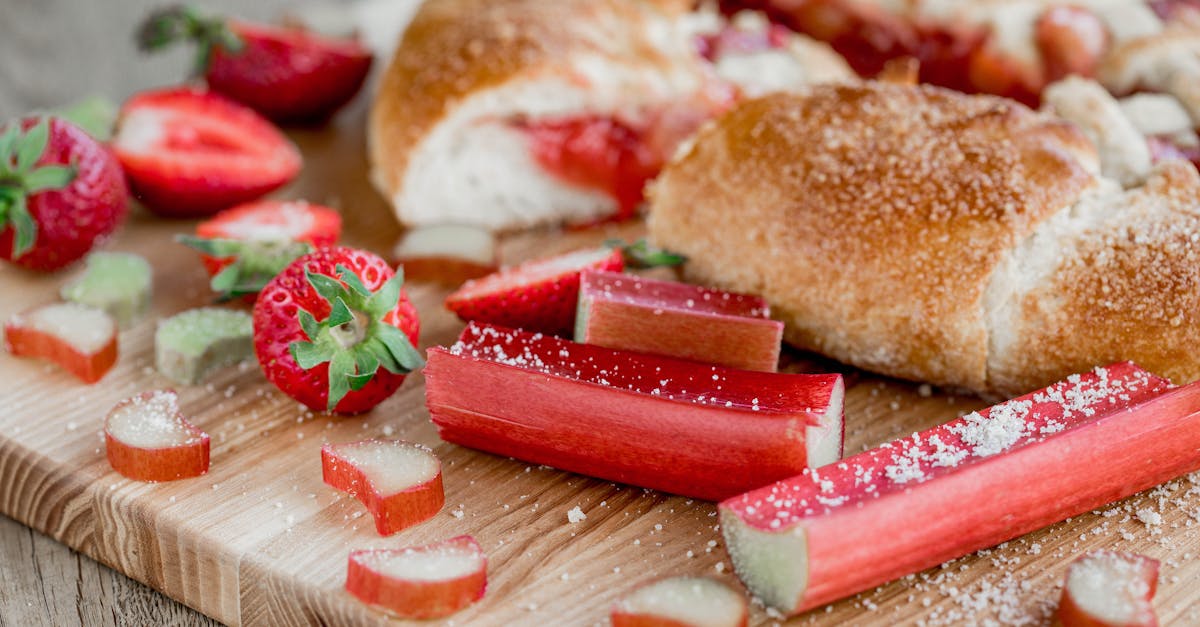 Looking for a delicious dessert to make with fresh rhubarb? Try this Fresh Rhubarb Pie recipe! This sweet and tart pie is perfect for any occasion.
Ingredients:
1 Double Crust Pie Dough
4 cups Fresh Rhubarb, chopped into 1-inch pieces
1 cup Granulated Sugar
4 tablespoons All-Purpose Flour
1/2 teaspoon Cinnamon
1/4 teaspoon Nutmeg
1 tablespoon Unsalted Butter
1 Egg, beaten with 1 tablespoon Milk
Nutrition:
Servings: 8
Calories: 370
Total Fat: 14g
Saturated Fat: 6g
Cholesterol: 31mg
Sodium: 249mg
Total Carbohydrates: 60g
Dietary Fiber: 2g
Sugar: 35g
Protein: 3g
Instructions:
Preheat the oven to 400 degrees F.
Roll out half of the pie crust dough and line a 9-inch pie dish. Set aside.
In a large bowl, mix together the rhubarb, sugar, flour, cinnamon, and nutmeg until well combined. Pour the mixture into the prepared pie crust.
Dot the top of the filling with small pieces of butter.
Roll out the second half of the pie crust dough and lay it over the top of the pie. Trim away any excess dough and crimp the edges of the crust to seal.
Using a sharp knife, cut a few slits in the top of the pie to allow steam to escape.
In a small bowl, beat together the egg and milk. Brush the mixture over the top of the pie crust.
Bake the pie for 20 minutes, then reduce the oven temperature to 375 degrees F and continue baking for an additional 40-50 minutes, or until the crust is golden brown and the filling is bubbly.
Remove the pie from the oven and let it cool completely on a wire rack before serving.
Additional Notes:
Cooking Time: 1 hour 10 minutes
Preparation Time: 20 minutes
Category: Dessert
Cuisine: American