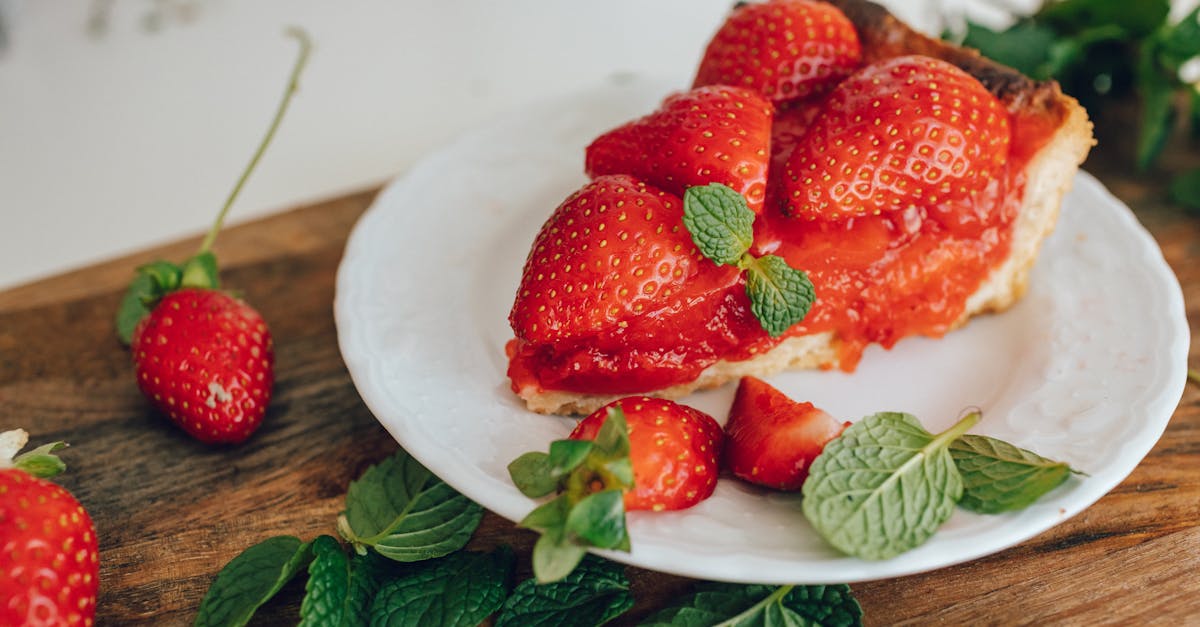 This strawberry pie recipe is a delightful summer dessert that is perfect for any occasion. It has a flaky, buttery crust filled with a sweet and tangy strawberry filling. This recipe serves 8 people and each serving provides the following nutrition:
– Calories: 272
– Total Fat: 12g
– Saturated Fat: 7g
– Cholesterol: 31mg
– Sodium: 117mg
– Total Carbohydrates: 37g
– Dietary Fiber: 2g
– Sugars: 21g
– Protein: 3g
Ingredients:
1 9-inch pie crust, unbaked
4 cups fresh strawberries, hulled and sliced
1 cup granulated sugar
3 tablespoons cornstarch
1/4 teaspoon salt
1/2 cup water
1 tablespoon unsalted butter
Whipped cream, for serving (optional)
Instructions:
Preheat the oven to 350°F. Line a 9-inch pie dish with the unbaked pie crust and crimp the edges.
In a medium saucepan, mix together the sugar, cornstarch, and salt. Stir in the water and bring to a boil over medium heat. Cook for 2-3 minutes, stirring constantly, until the mixture has thickened and becomes translucent.
Remove the mixture from the heat and stir in the butter until it melts and combines with the mixture.
Add the sliced strawberries to the mixture and toss to coat.
Pour the strawberry mixture into the prepared pie crust.
Bake the pie for 45-50 minutes or until the crust is golden brown and the filling is bubbling.
Let the pie cool completely on a wire rack before serving. Serve with whipped cream, if desired.
Additional Notes:
For a decorative crust, use a cookie cutter to cut shapes out of the top crust before baking.
To prevent the crust from getting soggy, brush the bottom of the pie crust with an egg white before adding the strawberry filling.
Cooking Time: 45-50 minutes
Preparation Time: 20 minutes
Servings: 8
Category: Dessert
Cuisine: American