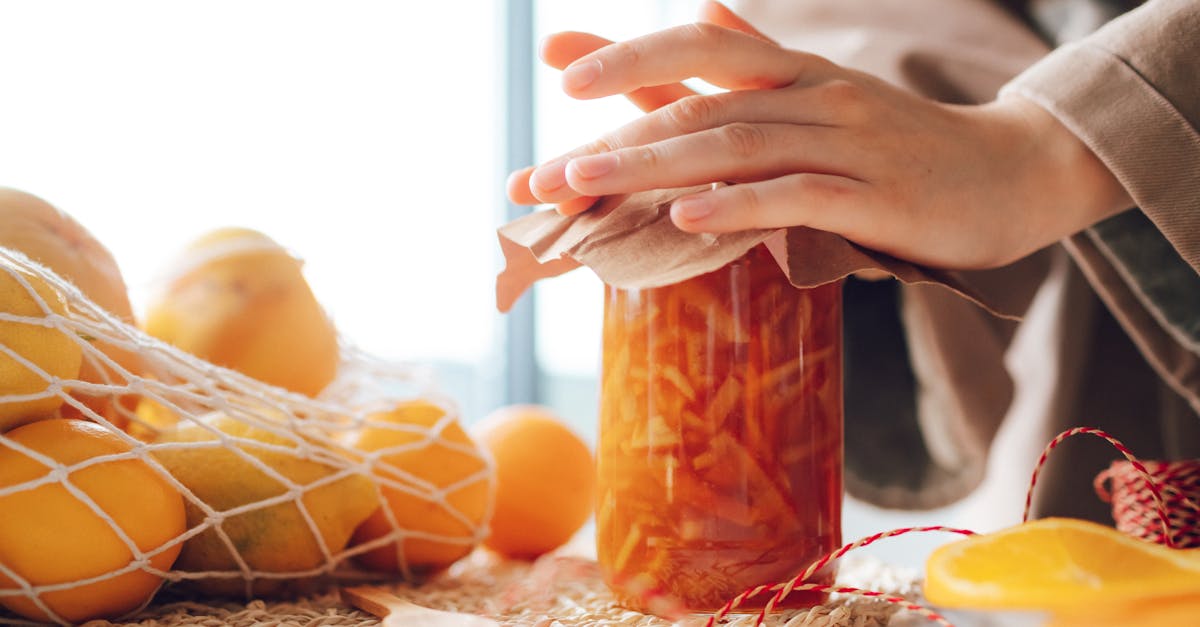 This delicious Orange Marmalade recipe serves 8 and has a tangy and sweet flavor that will awaken your taste buds. This recipe takes approximately 2 hours and 30 minutes to prepare. The nutritional content per serving is approximately 120 calories.
Ingredients:
5 oranges, washed and dried
1 lemon, washed and dried
6 cups of water
6 cups of granulated sugar
Instructions:
Cut the oranges and lemon in half and then slice them into thin half-moons.
Remove the seeds of the oranges and lemon and place them into a cheesecloth. Wrap and tie the cheesecloth securely.
In a large saucepan, add the water and the sliced oranges and lemon, including the cheesecloth bundle.
Place the pan on medium heat and bring to a boil. Reduce heat and let it simmer, covered, for approximately 1 hour or until the fruit peels are tender. Stir occasionally.
Remove the cheesecloth bundle from the saucepan and allow it to cool. Squeeze any remaining juice and pulp back into the pan.
Add the sugar to the saucepan and stir to combine. Place the saucepan over medium-high heat and bring to a boil for approximately 15 minutes.
Make sure to stir occasionally to prevent scorching. Skim off any foam, if necessary.
After 15 minutes, test for doneness by placing a small amount on a plate that has been chilled in the freezer. If it thickens and wrinkles when you touch it, it is ready.
Remove the saucepan from the heat and let it cool for 10 minutes. Give it a stir to distribute the fruit evenly.
Ladle the marmalade into 8 sterilized jars. Twist on the lids and let them cool to room temperature before refrigerating.
Additional notes:
This recipe takes approximately 30 minutes to prepare and 2 hours to boil. It's important to make sure that the marmalade reaches the correct temperature to reach the desired thickness and texture.
Nutritional content per serving:
Calories: 120 kcal
Fat: 0 g
Sodium: 0 mg
Carbohydrates: 31 g
Fiber: 0.5 g
Sugar: 30 g
Protein: 0.2 g
Servings:
This recipe makes 8 servings of Orange Marmalade.
Preparation time:
This recipe takes approximately 30 minutes to prepare.
Cooking time:
This recipe takes approximately 2 hours to cook.
Category:
This Orange Marmalade recipe is a type of spread.
Cuisine:
This recipe is a part of the British and Irish cuisine.